The rubber on your table tennis blade influences the way you play table tennis. It can dictate your overall technique, strategy, and style of play. Choosing the right table tennis rubber for your racket can be overwhelming, which is why L&G Table Tennis Mall has created this Table Tennis Rubber Guide. We want to help players at every level select the correct ping pong paddle rubber that fits their needs. View our simple guide to learn how to choose between different table tennis rubber types. Find the right rubber at Butterfly to start improving your gameplay today.

Inverted Rubber
This ping pong paddle rubber is best suited for putting spin on a ball due to its breadth of contact surface with a ball.

Short Pips-Out Rubber
This rubber is not easily affected by the opponent's spin due to its narrowness of contact surface with a ball. It will knock a ball away.
Long Pimples Rubber (with Sponge)
This will serve a ball with unexpected spin due to the various movements of pimples in hitting a ball.
Long Pimples Rubber (without Sponge)
This is light and easy to handle. It doesn't have much elasticity, so you can shut the power of explosive Top-spin balls down.
Anti-Spin Rubber
This is a kind of inverted rubber but has little friction. It is not easily affected by the opponent's spin.
What Sponge Thickness Should I Choose?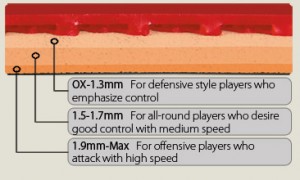 Many rubbers offer multiple sponge thicknesses. The sponge layer, the area between the top-sheet and the wood, acts as a trampoline. A thinner sponge will be less "springy" and have a hard feel, as the ball will generally sink to the wood surface, producing less spin and speed. A thicker sponge will have a soft feel and will be faster and provide more spin as the ball will sink deep into the sponge layer catapulting it outward with tremendous velocity and increased spin. If you are unsure about which thickness to choose, 1.9mm sponge is always a safe bet.
What is Sponge Density?
In the highly technical world of table tennis equipment, L&G Table Tennis Mall to give our customers as much information as possible to help each person choose the equipment that best meets their needs. To that end, we are now publishing a list of Sponge Density Ratings. In general, the higher the number the denser (harder) the sponge. Players who swing harder prefer the harder sponges. The denser sponges have more stored energy but also require more racket speed to compress the sponge and release this energy. The all-round player or players with shorter strokes will prefer sponges with medium or softer sponges.